Travel
If you are planning to come for treatment, please read the entire page, or use the directory to click and go to the subject of interest. (Click on your browser's back arrow button to return to the top of the page.)
For patients unfamiliar with international travel, please collect your bags and pass through customs and Mr. Hoch will meet you with a sign with your last name just outside the door of customs.>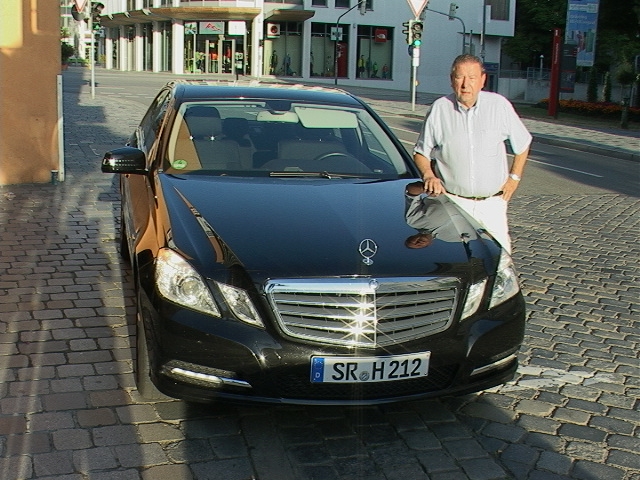 Peter Hoch with Car
Car Rental:
In general we do not recommend renting a car, unless you are willing to pay the very high cost of total auto insurance. Driving on the Autobahn is fun, but if you are not experienced at this, we do not recommend it. The sign posts are very different from those in the US and the traffic fines are very expensive.
Telephone:
ProSpine requires that the patient uses one of their mobile phones, during the treatment phase in Germany. This is to ensure that the clinic and patient have the possibility to contact each other at any time. We do this because many patients come to Germany with phones, which do not work, even though their providers have told them it will work. If one can wait until they arrive at the clinic before getting a phone, it works out well. If you should need to use a phone at the airport it is probably best to use the pay phone. There is a deposit and small fee for the mobile phone. Phone calls received are not charged to the receiving phone in Germany.
To dial long distance in Germany, one begins with a 0, instead of a 1, which is done in the US. All mobile phones are long distance numbers and begin with 1, after the initial 0. So while in Germany, one would dial a typical mobile number as 0 151 555 555. The length of the telephone number varies in Germany. To dial internationally in Germany, one dials 00 first then the country code. So for a typical US, Canadian or Caribbean number one would dial 00 1 (555) 555-5555. Dialing from the US to German cell phone would typically be 011 49 151 555 555. (The 0 is dropped). The German telephone system allows you to dial directly to a hotel room or person's office within a company. This is one reason the phone number varies in length, the extension is simply added to the phone number, after the 0 is dropped. Dialing the base telephone number with the 0 usually gets you the operator. So for a typical business not in one's city, one would dial 0 9422 8888 0, and expect to get the operator or a recording with a voice menu. If one knew the extension of the person to whom they wish to speak, (perhaps it is 99,) then they would dial 0 9433 8888 99.
Internet:
High-speed Internet connections are available for the patients in the hospital. We recommend using Skype over the Internet to call home. Computer-to-computer communications with Skype are free. Calls to land lines most anywhere in the world are between 2-3 cents per minute. The hospitals charge a daily fee for this service.
Lodging in Bogen:
Click on hotel name to go to the website, Pension Schreiber. Although this hotel is small, it is modern, quiet, friendly and clean. It is located just off the main street and in the town center about four city blocks from the ProSpine practice and Bogen regional hospital. Consequently no cab is required for patients, who have no trouble walking. Wireless Internet is free. Breakfast is included with your room price. The hotel is family-owned as are all the hotels in Bogen. You can now pay by credit card. There is no elevator, which may be a problem for some. The owners speak a little English, so they have someone else translate, if necessary, but often hand gestures get the point across. The cost is normally very low.

Bogen is a small but busy town of 10,000, but has 3 Italian, 2 Greek, 1 Chinese, and 4 German restaurants and beer gardens, all within walking distance of the hotel. The sauerbraten at the restaurant in the Hotel zur Post at the time of this writing has a taste you cannot get anywhere else and will surprise many Americans with its subtleties. Additionally, they have three very good bakeries and three super markets all within walking distance. Plan to pay in cash in Bogen at the supermarkets and restaurants. There is an ATM around the corner at the Deutsche Post, which is the best way to get euros. Also, Sparkasse Bank and Reiffeinsbank, which lie between the rail station and hotel, have nice ATM facilities.
Lodging in Straubing:
Click on hotel name to go to their website, Hotel Theresientor. We recommend this more upscale Hotel Theresientor for several reasons, but it is not necessary for most patients. It is located at the end of the Stadtplatz (the town square, where many shops and restaurants are), but approximately 13 km from the practice and hospital, so a taxi ride is necessary to visit the practice and hospital. The patients and those traveling with them like the opportunity to shop and eat in local restaurants in a bigger city like Straubing (about 50,000 inhabitants). The hotel gives a ten percent discount to Prof. Dr. Bertagnoli's patients. The hotel has installed electronically-controlled beds. This can be particularly important to lumbar patients, who have difficulty with the normal low height of beds. Therefore, we recommend this hotel and bed for lumbar patients. Room service from one of the best restaurants in the area (zum Geiss, two doors down) is available. A book store is located next door. A DVD player will be installed in your room free of charge at your request. Free wireless Internet is available for laptop users and a free Internet station is located on the first floor (first floor is the one above the ground floor in Europe). Here most of the staff speak English. Most patients stay in the Pension Schreiber or Hotel Theresientor. The patients often form impromptu support groups at our recommended hotels, which patients find very helpful in their time of stress.
Luxury at Gut Schmelmerhof:
Click on hotel name to go to their website, Gut Schmelmerhof (GUT means ESTATE in German in this context). This five star facility is nestled in the Bavarian Forest region of Rettenbach, 15 minutes from Bogen. Exceptionally gorgeous 700 year old facility. It has been in the Schmelmer family since 1664. Outstanding facility, gorgeous grounds, exquisite Bavarian cuisine, indoor/outdoor pool, saunas, massage, body/facial treatments by appointment. Perfect for peaceful post-op recovery. The Gut-Schmelmerhof is a must see if only for a cappuccino and pastry or better yet, an outstanding meal near the open hearth fireplace. Ask them about special rates for Prof. Dr. Bertagnoli's patients. A taxi from Gut Schmelmerhof to the hospital is about 30 EUR per trip.
Travel Money:
Do not bring American dollars for exchange; this is too difficult and costly. Because of fears of counterfeiting, most German banks will not change US 100 dollar bills. Do not bring American traveler's checks, again, too costly. Credit cards (Visa and Master Card) are generally accepted at larger facilities. American Express is not widely accepted, because of the cost to the vendor. Some smaller restaurants and hotels will accept cash only. International ATM's (Geldautomat), are available in the airport, and throughout both Straubing and Bogen. The ATM is the best way to get EURs, but make sure your bank's ATM card will work in Germany before leaving.
Tipping:
Unlike America, waiters get a decent salary and so tipping is not necessary, but sometimes expected of Americans, because some have done it the past. If you wish to tip, please do so, but it is not necessary.
Language:
German, of course is the native language, Bavarian being the dialect. Those, who learn German in school, learn high German. There is quite a bit of difference between high German and the many dialects of Germany, Austria and Switzerland. Most Germans know some English and using some form of creative, impromptu sign language works also. Generally, Germans are very helpful and willing to try to communication in English, when in doubt, ask a teenager, (or younger), for help, they're all learning English in school, (starting in Kindergarten or first grade), and it's most fresh on their minds. You will find it helpful to bring a German-English dictionary.
Television:
Television programs are in German; several English language programs are available (eg CNN). It's a great idea to bring a DVD player or DVD compatible laptop computer. Bring DVD's if it's something you prefer, otherwise a lot of reading material and/or music. Recovery can be very boring at times. And remember to bring power converter(s) for all appliances, if they need it. Most laptop and video camera power supplies work on both European and US power grids, but check with your appliance maker.
Please contact us with any further questions not addressed here.