Discectomy with Barricaid
| | |
| --- | --- |
| | The discectomy in all its forms is the most common spinal procedure with over 500,000 performed each year. Disc herniation (shown on the left in an MRI) is the most common reason for a discectomy. (click on pictures for an enlarged view) |
The repair of the disc herniation, usually with some sort of discectomy, leaves the annulus weakened and disc subject to further dehydration, which results in loss of disc height. The weakened annulus results in reherniation of the disc in about 12.5% of the cases and loss of disc height may result in radiculopathy (pain and loss of control of the limbs) either immediately after the surgery or within a few years. Such loss of disc height may require the patient to seek more invasive surgeries, such as fusion or artificial disc replacement in the future.
While many researchers have tried to address this issue with the development of annulus supporting devices, Dr. Bertagnoli believes that Intrinsic-Therapeutics has produced a workable solution. The Barricaid® prosthesis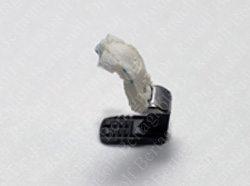 , when used in a discectomy, has demonstrated its ability to stabilize the disc and prevent loss of disc height. It has received its CE Mark, meaning approval in Europe for use in patients, after trials in the US, but will not be available in the US for some years to come. Dr. Bertagnoli has implanted this device at the hospitals associated with his practice and plans to continue the use of the device, as early results are very promising and in keeping with those of the clinical trials.
The Barricaid® prosthesis is part of growing trend in spine surgery, which seeks to postpone or prevent the need for further, more invasive anterior surgeries. Dr. Bertagnoli's commitment to reduce the need for more invasive anterior surgeries is demonstrated in the use of this technique and others like ADCT.
| | |
| --- | --- |
| | The Barricaid® is designed for quick and safe implantation following limited discectomy. In clinical cases performed to date, surgeons have successfully implanted the Barricaid in just minutes. To the left one can see a template being used to properly size the implant. |
| | Implantation is a quick and easy process for the surgeon, which reduces the OR time and reduces surgical risks for the patient. |
| | Shown to the left is a view of the prosthesis after implantation. |
| | Shown to the left is an artist rendition. |
For more information about the Barricaid® endoprosthesis please contact us through the Contact Page on the top menu.