Artificial Disc Replacement
Four-Level Cervical and
Two-Level Lumbar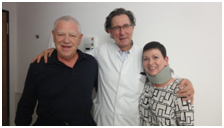 Seen in order (left to right)
John H. Mortimer, Prof. Dr. Rudolf Bertagnoli, Dr. Mrs. Katherine Mortimer
In 2009 Dr. Bertagnoli performed a two-level cervical artificial disc replacement at C5-6 and C6-7. I had suffered terribly prior to this surgery, and Dr. Bertagnoli had relieved my misery! In 2014, five years after my cervical surgery, I began to have increasingly worse symptoms such as occipital headaches and radicular pain from the levels higher than the artificial disc replacements. I had an x-ray and an MRI which showed definite signs of further degeneration, bone spurs, and endplate degeneration. My thought was "only Dr. Bertagnoli" will take care of me!

I was able to have a consultation with Dr. Bertagnoli online; he responded immediately that he could provide surgical correction of my cervical spine through bone modeling, and artificial disc replacements for the degenerating discs. I had also requested an evaluation of my lumbar spine while I was in Germany, which Dr. Bertagnoli had agreed to do as well. I was extremely happy that Dr. Bertagnoli would be available once again to relieve my suffering! When I arrived at ProSpine and was admitted to the hospital in Bogen, I had an MRI. This MRI showed that I had degenerations as well as disc herniations in my lumbar spine; Dr. Bertagnoli explained that I needed the surgery as soon as possible.

Dr. Bertagnoli completed my cervical surgery once again, providing me relief immediately after surgery! He also made the time in his extremely full surgical schedule for my lumbar surgery, thus preventing a catastrophic event in my lumbar spine! Dr. Bertagnoli, in his expert surgical experience, made the decision to not only to relieve my suffering but also to prevent more suffering.

I know that I have put my spine into the hands of the world's best spine surgeon. I also know that my suffering has been relieved once again, and that I will have the motion preservation provided by the artificial disc replacements, total of four artificial disc replacements in my cervical spine and two artificial disc replacements in my lumbar spine! Dr. Bertagnoli has truly made a positive difference in my life and I will always be grateful to him!